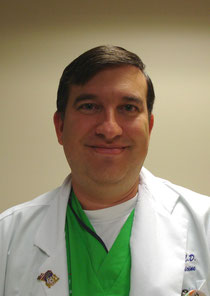 Dr. Jose Rubero is one of the Founder/Core Faculty for the University of Central Florida (UCF) Medical School Emergency Medicine Residency Program at Osceola Regional Medical Center in Kissimmee, Florida. He was the Associate Program Director and then, the Program Director for the Residency until January 2019.
Prior to this, he was the Clerkship Director and Faculty member of the Emergency Medicine Residency Program at Florida Hospital in East Orlando, Florida. As well as the Site Clerkship Director in Emergency Medicine at University of Central Florida School of Medicine, Florida State University School of Medicine and NOVA Southeastern University School of Osteopathic Medicine.
Dr. Rubero received his MD from the Universidad Central Del Caribe School of Medicine, in Puerto Rico, where he later designed a medical student curriculum in emergency medicine, and was appointed as Associate Professor.
During his medical school training, Dr. Rubero was recognized by the American Red Cross and by the Puerto Rican government for excellence in helping the community.
He completed two residencies:
- Emergency Medicine at Weill Cornell Medical College, Lincoln Medical Center Campus in the Bronx, New York
- Internal Medicine at Mt. Sinai School of Medicine, Cabrini Medical Center campus in New York City, New York
In 2000, he designed an Emergency Medicine Course and a Trauma Course to be used in Medical Schools as part of the Emergency Medicine Curriculum.  Since then, Dr. Rubero had been teaching these Courses in Quito, Ecuador; Guatemala City, Guatemala; as well as different MD and DO Schools including NOVA, LECOM, Kansas City University, FSU, and others. Yearly, he goes to his alma mater, Universidad Central del Caribe, Medical School (a LCME accredited school) in Puerto Rico to teach Emergency Medicine as part of the 3rd and 4th year medical school curriculum for the past 15 years.
In 2002, he moved to Florida, where he joined Florida Emergency Physicians (FEP) as an emergency medicine attending for the Florida Hospital System in Central Florida.
He started the Emergency Medicine Clerkship at Florida Hospital in 2006 before the Emergency Medicine Residency Program started from scratch and performs the bulk of the didactic sessions.
When UCF College of Medicine was established in 2006, Dr. Rubero was named as the Florida Hospital Site Clerkship Director. Under his supervision and since 2006, he started with around 8-10 medical students per year to around 20-30 medical students per year from UCF. The number of medical students that rotated from other Schools also increased from 4-6 per block or month to 10-14 per block or month.
The UCF medical students in addition to the other medical students rotating through the FH Emergency Department received weekly 2-4 hours conferences and simulations that Dr. Rubero delivered to them. 
Trying to improve the quality of the didactics as self-study time from the students, Dr. Rubero designed a clerkship website where the students can review his lectures, watch videos, connect to other links related in emergency medicine. The website is: www.FloridaEMClerkship.com. Also, he designed a website where the students can follow up Dr. Rubero lectures with integrated quizzes using Digital Chalk.
As part of the FH Emergency Medicine Residency Program, Dr. Rubero was an important faculty member giving personal supervision and lectures to the residents.  Many residents always tried to attend Dr. Rubero lectures due because they were interactive and integrated with the mentality of the millennium residents.
Most of the evaluations of the Clerkship written by the medical students from UCF and other Schools recognized the excellent experience and didactics obtained while rotating under the supervision of Dr. Rubero. (Evaluations are available if requested as well as there are copies in UCF). The students write of Dr. Rubero that "he is the most informative and gifted teacher".
He has/had educational appointments as Associate Professor at University of Central Florida, Universidad Central del Caribe in Puerto Rico (LCME Medical School), and Kansas City University as well as Assistant Professor at Florida State University, NOVA DO School, LECOM, and other medical/osteopathic schools.
For his achievement in medical students' education, he was nominated in two consecutive years for the Clerkship Director of the Year 2014-2015 CDEM Awards for Education Excellence.
In April 2017, he was recognized at the CORD Academic Assembly with the CORD Academy for Scholarship in Education in Emergency Medicine Academy Award. This award is given to outstanding educators who have met rigorous standards of academic excellence within the last five years.  This award is in effect for five years during which awardees are asked to mentor and support academic excellence and scholarship in emergency medicine education.  
The purpose of the CORD Academy for Scholarship in Education in Emergency Medicine is to:
Foster and value the scholarship of teaching and learning. 

Provide role modeling and support for educators in emergency medicine education programs. 

Foster networking and collaboration among institutions of emergency medicine education by providing a forum for the exchange of ideas about educational endeavors including teaching, evaluation, curriculum design and implementation, faculty development and educational research.
Thus, this Academy Award supports the mission of the Academy by recognizing those educators who have an exemplary record of achievement in emergency medicine education and advancing the development of a network of mentors for future growth in emergency medicine education scholarship.
For three consecutive years, he was the organizer and the Medical Director for the FH EM Residency Program Annual EMS Conference.
In addition to education, Dr. Rubero had been distinguished as an excellent clinician ae well as educational support among his colleagues. Some of the comments from Dr. Rubero's colleagues are: "demonstrate a high ethical standard and is a tireless advocate of graduate medical education; has an excellent fund of knowledge and is able to translate that well to clinical applications; as an educator, he sets the standard at our Institution with his breadth of knowledge and experience".
In view of his accomplishments as well as the form that he teaches and cares for his residents and medical students, he was asked to be part in the preparation and establishment of an Emergency Medicine Residency Program at Osceola Regional Medical Center sponsored by University of Central Florida at the end of 2015.
In 2009, he was appointed as the assistant medical director for the Florida Hospital EMS, Flight and Transfer Center until 2013.
Since 2017, Dr. Rubero is the Assistant Medical Director for the Osceola County, City of Kissimmee, and City of St. Cloud EMS Systems in the State of Florida.
Dr. Rubero's goal is to integrate the Emergency Medicine Curriculum as part of the medical schools' curriculum.  His interests are cardiology, pulmonary, critical care and EMS.